'We feed everyone': How a vegan restaurant in Lviv started helping hundreds of Ukrainian refugees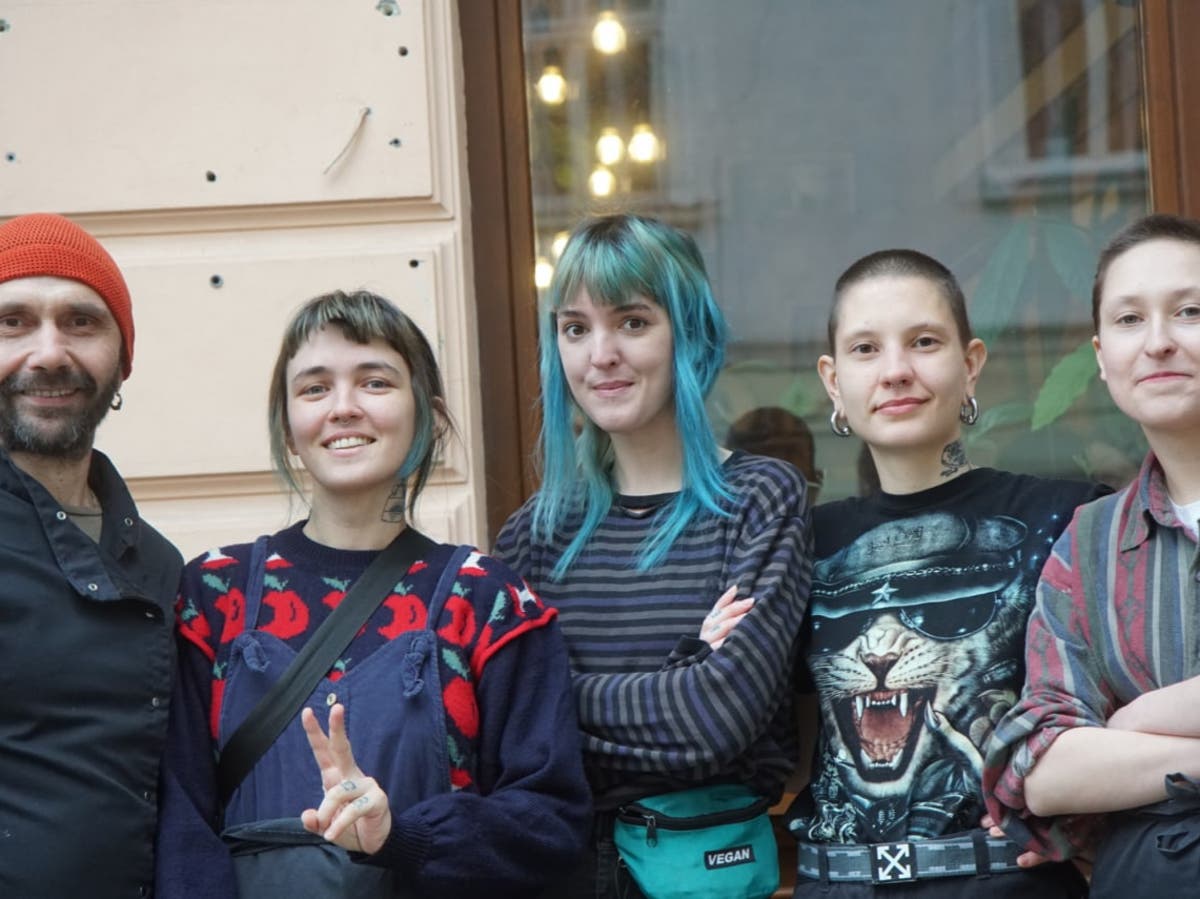 It has never been busier for Vitaly, 26, and his restaurant Vega Room in Lviv, western Ukraine.
The number of Vega Rooms has increased tenfold since the invasion of Russia on February 24, forcing a wave of mothers, children and the elderly to try to leave the country.
About 200 people will arrive at his restaurant's door each day for a hot meal, which Vitaly admits is more than Vega Room has ever had. On the menu? Buckwheat, cereals and simple food, he says.
"It's just regular soups, or we'll do grains like buckwheat, rice and meat substitutes, we just use tofu, falafel, which are very useful, actually. And people are very happy with it. But on the other hand, there is actually a problem with these products. especially with tofu and with some meat substitution, as it's hard to find at the moment.
Vitaly says it's because his Ukrainian supplier in Kharkiv was effectively shut down by the war, "and in Kharkiv nothing is working now, so yeah, we can't get all the necessary products from Ukraine. And now we ask, I ask my friends to send me products".
About a month ago, Vega Room was seeing around 30 or 40 customers come and go in a single day, with people enjoying plant-based pierogi, cabbage rolls, and even vegan stroganoff.
"It's not really big," Vitaly said The Independent from his home in Lviv, where he hosted two families from eastern Ukraine. "There are six tables, so at the same time there could be a maximum of twenty people. Now it's something like 200 a day, so for us that's a huge number of people.
The only difference now is that these people are not paying and Vega Room has become a vital part of the ongoing humanitarian effort in Lviv and elsewhere in Ukraine.
"Maybe they're not all refugees (from eastern Ukraine) but we don't ask them to show their passports," Vitaly said of the Monday-Sunday operation. "I don't think people try to take advantage here, we just feed everyone."
"Older people from the neighborhood may also come," adds Vitaly, "but we're not trying to ban them because if they want to come just to eat, they have the right."
About a month ago, Vitaly announced the closure of his Vega Room business due to the combined threat of Covid and a war with Russia – although it seemed impossible even for him.
"We heard, like almost every day, that Russia was going to attack us. But we didn't take it seriously. Nobody really expected it. And after the start of the war. I was like, I wasn't freaked out, but I didn't know what to do or what the future was going to be with the restaurant because I was really surprised," said Vitaly, who engaged in the Ukrainian army. volunteer. "it was very awful for sure".
That's when he was approached by Vegan Ukraine, or Vegan UA, a charity that wanted to turn Vega Room into a kitchen for refugees fleeing Russia's onslaught.
According to him, it was spearheaded by two sisters who were regular customers of his restaurant and who arranged funding for his vegan kitchen for refugees – which has provided both Vega Room and now thousands of refugees with a lifeline. rescue.
"When the war broke out, we lost our workers because some of them left for Poland. We had a waitress and she went to Poland… They were afraid of war and so we had no choice. We have decided to close it. But then yes, this initiative arose," Vitaly said.
He explained in a Facebook post in early March that "Unfortunately vegan refugees can only eat a granola bar and tea from the food provided", and that Vega Room will "prepare full meals every day and will provide free meals to anyone in need."
His rent has meanwhile been suspended by authorities in Lviv, who braced for a Russian assault on Ukraine's westernmost city after an attack on a nearby military base on Sunday.
Although an isolated event for now, the bombardment from a touching distance of Poland sent shockwaves through Lviv, which saw little of the Russian-led war.
"It was horrible," Vitaly said, "because a lot of people weren't expecting it, you know. Until today, we live here like, like in a peaceful place. We did not expect such a thing to happen".
"So compared to other (Ukrainian cities) it's pretty good," he explained. "But still, we can't compare it with pre-war, it was just a normal city. And now where we are, everything is different.
Like all residents and businesses in Lviv, Vega Room has been forced to adapt to the large number of people fleeing the war, with estimates suggesting that around 200,000 people have temporarily settled in Ukraine's seventh largest city. .
Lviv normally has a population of around 740,000, with strong ties to neighboring Poland and Hungary. Meanwhile, United Nations estimates indicate that around 1.85 million people have left Ukraine, and up to 4 million still may.
"There is a huge problem with the humanitarian issues in the east," Vitaly explained. "People are starving there and the worst thing is that you are completely helpless. You know, I want to contribute to these people".
Self-described "cosmopolitan", the lifelong vegan and business owner says he couldn't imagine fighting five years ago, this war is "already the second conflict because the war started in 2014 when the Russia occupied Crimea. But to be honest in 2014, people weren't as united as they are today.
"I think the huge support for them (Ukrainian military) was President Zelensky because he actually inspired people," he said. "I think if it was our former president or a former president like Petro Poroshenko, for example, no one would fight so hard for the country."
As for the future, Vitaly says he hopes to reopen Vega Room when the war is over and that his customers – new and old – will return.
"Actually, I want to open as soon as possible. But for now, I think we can have two conditions; the place can be closed (like a restaurant) and give taxes (to the state) or the place can be open and feed the refugees and I think that's what works best for us right now."
"And then when the problem goes away," says Vitaly. "Hopefully when the war is over, of course, we'll reopen this as a normal place of business. Yeah."
Anyone wishing to contribute financially to the Vega Rooms Refugee Kitchen can contribute with donation details here.
The Independent has a proud history of campaigning for the rights of the most vulnerable, and we launched our first campaign to welcome refugees during the war in Syria in 2015. Today, as we renew our campaign and launch this petition to Following the unfolding crisis in Ukraine, we are asking the government to go further and faster to ensure the delivery of aid. To learn more about our Welcome to Refugees campaign, Click here. To sign the petition Click here. If you would like to donate, please Click here for our GoFundMe page.