Sanctions 'catastrophically cripple' Russian economy, study finds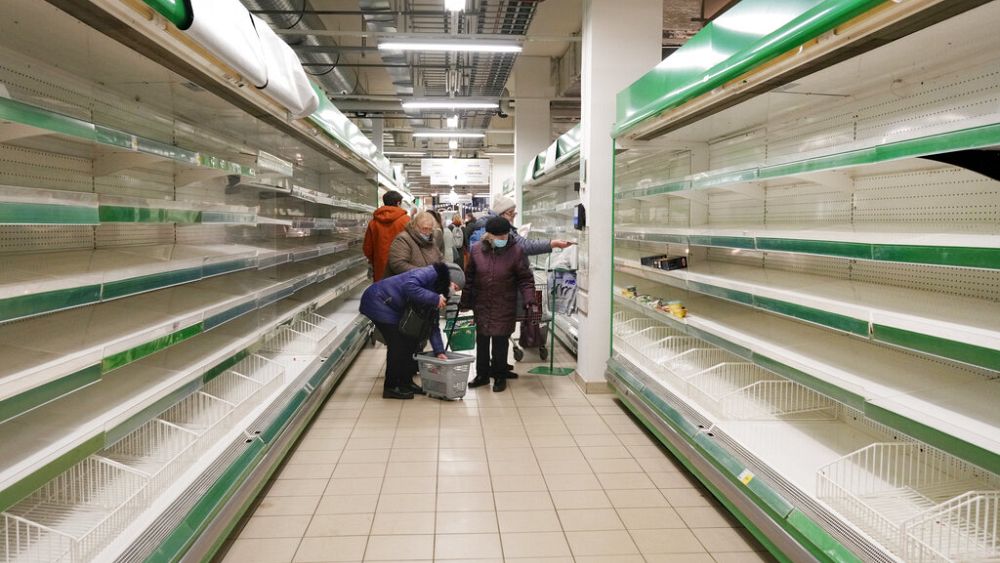 Russia's economy has been 'catastrophically crippled' by Western sanctions and the mass exodus of international companies, says a Yale University study.
The research – which the authors say is the "first comprehensive analysis" of the Russian economy – found that since the start of the war in Ukraine, Russia has suffered a devastating blow on several parameters.
"Russia has lost companies representing ~40% of its GDP, reversing almost all three decades of foreign investment," write researchers from the Yale School of Management, adding that this situation has been made worse by an "unprecedented" leak of capital and population. .
More than 1,000 companies have reduced their activities in Russia or left the country entirely since the start of the Ukrainian war, in almost every sector, from fashion to finance.
The Yale research, which was released on July 20, indicates that international sanctions have "irrevocably deteriorated" Russia's exports and that imports into the country have "largely collapsed".
This has led to "widespread supply shortages" in Russia and the shutdown of domestic production, which is dependent on imports across all industries.
"Despite Putin's illusions of self-sufficiency and import substitution, Russian domestic production has come to a complete halt and no longer has the ability to replace lost companies, products and talent; the depletion of Russia's innovation and production base has led to soaring prices and consumer angst," the Yale team wrote.
Russia's status as a top commodity exporter has also been hit hard, researchers say.
"Russia's strategic positioning as a commodity exporter has irrevocably deteriorated, as it now deals with a position of weakness with the loss of its once major markets, and faces daunting challenges to execute a 'pivot to Asia' with non-fungible exports such as piped gas," they write.
Energy revenue accounts for 60% of total Russian government revenue, which means that raw material exports are far more important to Russia than to the rest of the world.
The five authors of the study note that their findings challenge growing claims that sanctions are hurting the West more than Moscow.
They write: "As the Russian invasion of Ukraine enters its fifth month, a common narrative has emerged that the unity of the world in resisting Russia has somehow turned into a 'war of war'. 'economic attrition that is wreaking havoc on the west', given the alleged 'resilience' and even 'prosperity' of the Russian economy. »
"That's just plain wrong."
After the West imposed sanctions on Russia following its invasion of Ukraine in February, energy and food prices have soared around the world.
Some Western pundits and politicians have expressed concern about the fallout and have suggested that the sanctions do not affect Russia enough to justify the damage they cause to those who apply them.
One reason for this, according to the Yale School of Management, is that the Kremlin has "picked" its economic publications, "throwing away the unfavorable measures while releasing only the most favorable ones."
Russian President Vladimir Putin has claimed that the barrage of Western sanctions imposed on Russia for its invasion of neighboring Ukraine had failed.
"The economic blitz strategy has failed" and instead led to a "deterioration of the economy in the West," he said in April.
In the 118-page study, authors Jeffrey Sonnenfeld, Steven Tian, ​​Franek Sokolowski, Michal Wyrebkowski, Mateusz Kasprowicz argued that the West must remain united in its strategy towards Russia and maintain sanctions pressure.
"There is no path out of economic oblivion for Russia as long as allied countries remain united in maintaining and increasing sanctions pressure against Russia," they write.
Across the EU, criticism of the sanctions has been increasingly vocal, with Hungarian Prime Minister Viktor Orban calling for a new strategy.
"We are sitting in a car that has a flat tire in all four tyres: it is absolutely clear that the war cannot be won this way," the ultra-nationalist said in July, as his country faced a historically high inflation and a fall in its currency.
The study also indicates that Russia's domestic financial markets, which reflect both current economic conditions and the country's future prospects, are the worst performing markets worldwide this year.
"By any metric and at any level, the Russian economy is in shock, and now is not the time to hold back," the authors added.