Russian Restaurant Babushka's Opens New South Tampa Location Early Next Month | Openings & Closures | Tampa
[ad_1]
Click to enlarge Russian restaurant Temple Terrace Babushka's is slated to open its second restaurant in South Tampa daily. – SHTROMVISION VIA BABUSHKAS.US/FACEBOOK" width="660″ height="551″/>
Russian restaurant Temple Terrace Babushka's is slated to open its second restaurant in South Tampa daily. The spot's social media encourages subscribers to "activate your notifications as we have yet to announce our official opening date which is early December".
The new location, at 901 W Platt St., Boca's former home in Hyde Park, also has an entirely different feel to the original Temple Terrace location. While the East Tampa restaurant has a quaint and cozy vibe, the South Tampa space is more, well, South Tampa-y.
The "Dacha-inspired interior" embodies a vacation home or "A place where relaxation is guaranteed and the worries of everyday life are back in town". Dacha translates to 'cottage' in Babushka's native language, but the space is more of a chic, well-decorated cottage than Little Red Riding Hood's grandmother's space.
There's a "From Russia with Love" neon sign against a grapevine-adorned wall with plush velvet, lush ferns, and wicker accents throughout.
Click to enlarge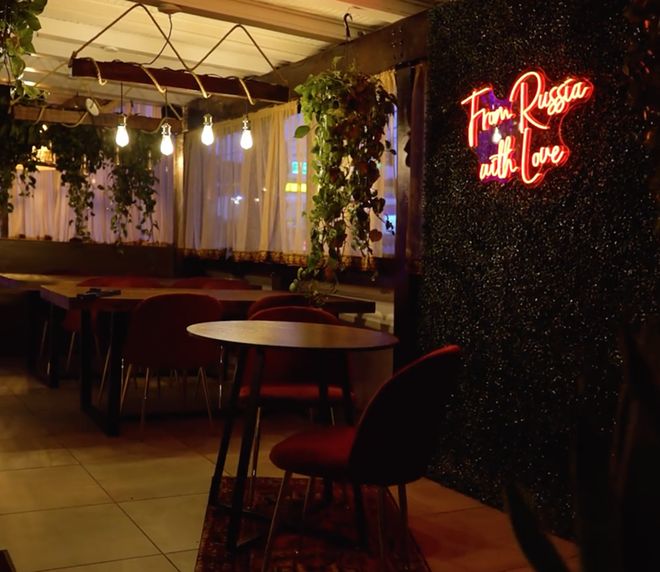 Creative Loafing Tampa Bay has contacted to inquire about the menu and opening hours for the new space, but has yet to receive a response. Differences spotted so far also include a caviar bar and liquor bar complete with infused vodkas. The restaurant has also added "Ukrainian and Eastern European dishes" to its offerings. To stay up to date, follow @ babouchkas.hydepark on Instagram.

Support local journalism and a small but powerful team that works tirelessly to bring you news about how the coronavirus is affecting Tampa Bay and surrounding areas, while giving you the food and drink news you crave. A one-time or monthly donation supports our staff. Every little bit counts. Want to know all about the Tampa Bay food scene? Sign up for our Bites newsletter.

[ad_2]
Source link