Old hotel to become permanent accommodation for Ukrainian refugees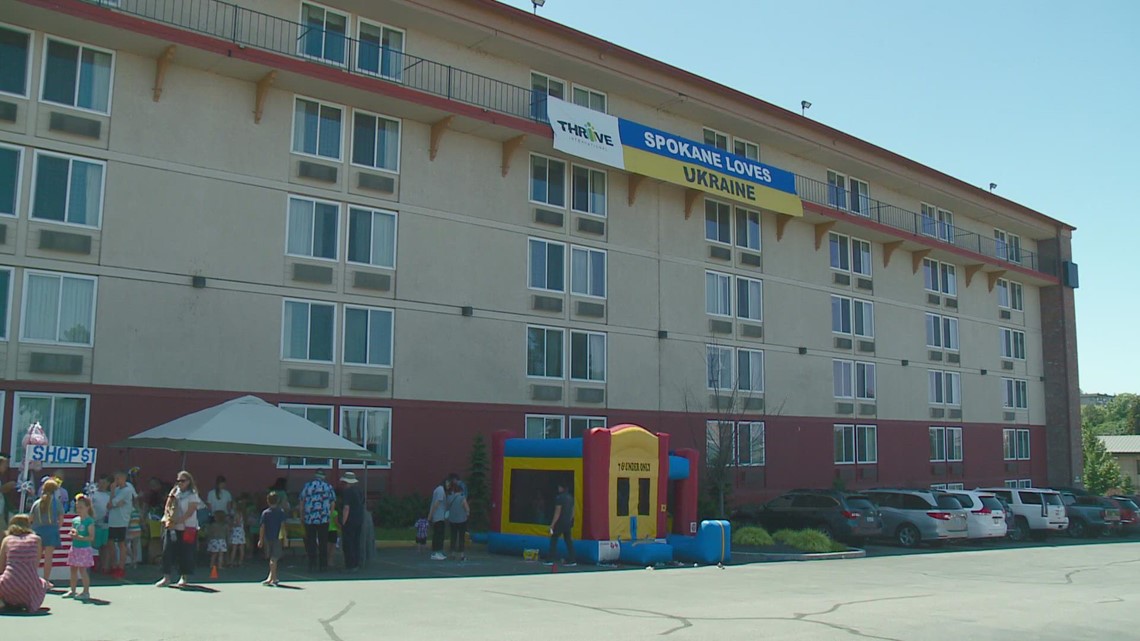 The new space will be called the Thrive Center.
SPOKANE, Wash. – The Old Quality Inn by East Fourth Avenue is being transformed into Thrive Center.
The Thrive Center is intended to provide Ukrainian refugees with a permanent place to live. And the former hotel rooms in this building will eventually be turned into an apartment complex.
When Russia attacked Ukraine five months ago, Spokane saw an influx of Ukrainian refugees. Many of them had no housing.
That's when Thrive International jumped at the idea of ​​turning a vacant hotel into a permanent home for them.
Mark Finney, is the executive director of Thrive International. He said: 'Well, that's fantastic, this hotel happened to be available. We spoke to the owners, they bought it, looking to renovate it. It was empty but still fully usable. And they really liked the idea of ​​working with Ukrainians and helping the refugee crisis.
Thrive International provides support and resources to Ukrainian refugees. This includes English lessons and medical services.
One of the center's new residents says she is grateful for the support.
"I am really happy to live here and I am grateful every day to see very nice people around me because all Ukrainian refugees now need support in this difficult time," said Thrive Center resident Maria Kukoba. .
Saturday's celebration recognizes the Thrive Center as a community asset and as a haven for Ukrainian families in need.
The center is designed to be temporary housing for families who need to get back on their feet.
Center staff say this would not be possible without a partnership with fortify holdings, the building's owner.
Sean Tylerkeys, CEO of Fortify Holdings, said, "It's pretty amazing in the sense that we're creating a refugee community within the Spokane community. If that's not living our mission, I don't know what is.
One floor of the building is already being renovated into apartment-style rooms.
Thrive International isn't just focused on the Thrive Center. They have also helped families move into alternative accommodation.
"They did a lot for us. They helped us rent an apartment," said Olay Kulabukhov, a refugee from Ukraine. "They helped us find furniture for our apartment. They helped us with everything. With all that bedding stuff, cooking stuff, with our kids.
A generous donation has also helped residents live for free for the past two months.
Although they will have to start paying afterwards, the rates will be lower than the city average.
This process had therefore been in place since the Russian attack on Ukraine in February.
And people are already moving into the hotel, and from what I'm told, it's almost full.
But if people still want to move in, they can fill out an online application with Thrive International.