Latest Ukraine-Russia war: Zelensky says Russians must stand up to Putin now as fighting escalates in east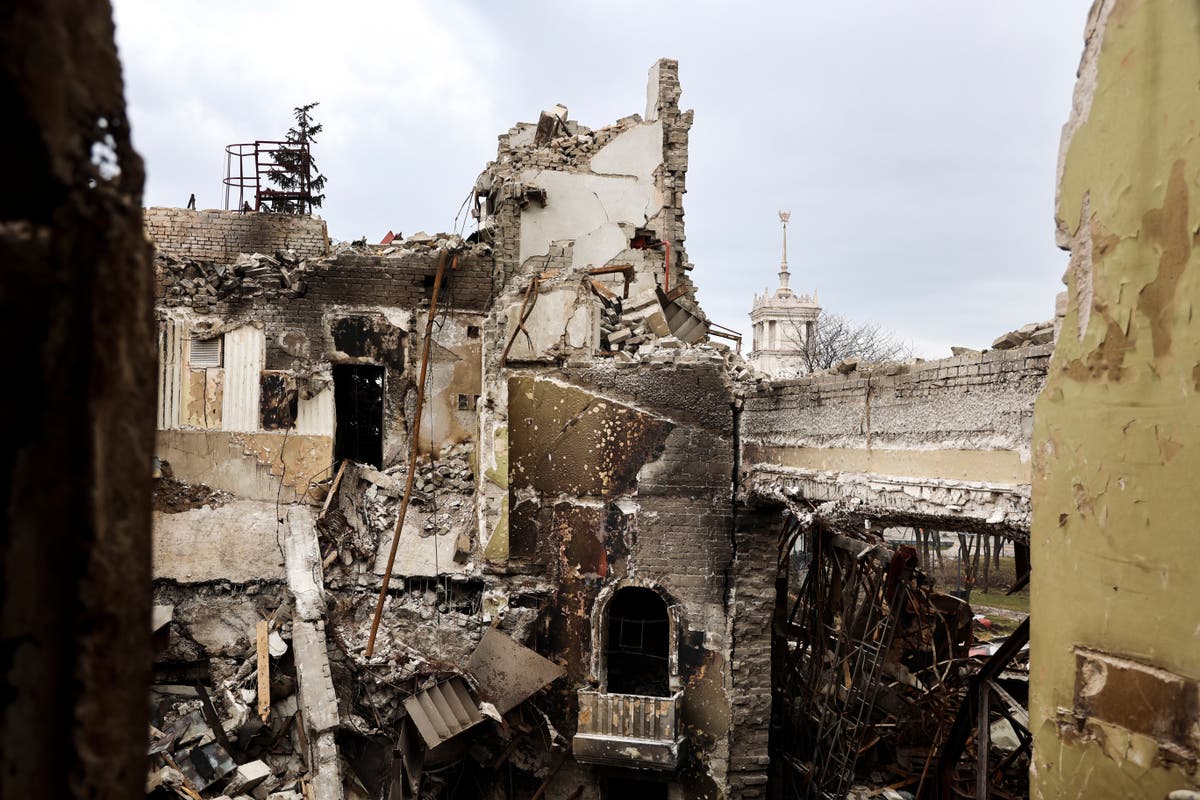 Related video: Russian tank opens fire on civilian cyclist in Bucha
Ukrainian President Volodymyr Zelensky has urged Russians to stand up against Vladimir Putin and demand an end to the war in Europe, which has been raging for six weeks now.
"…if for peace, if you feel even a little shame for what Russian troops are doing in Ukraine, then now is a key moment for these Russian citizens: you must demand – exactly demand – an end to the war," the wartime Ukrainian leader said in his video address.
"Nazism has no future, massacres have no future. Anyone in Russia who will not demand an end to this shameful war and the withdrawal of Russian troops from Ukraine has no future," Zelensky said.
It comes at a time when the beleaguered country is preparing for a tough battle on the eastern industrial front as Russian troops are likely to step up their offensive in the Donbass region.
Local authorities are asking people to evacuate in time.
And, drone footage taken from the exclusion zone around the Chernobyl nuclear power plant has confirmed reports that Russian troops dug trenches near the site.
1649312189
New EU sanctions against Russia could be agreed on Thursday or Friday
The EU could impose a fifth round of sanctions on Russia today, the bloc's top diplomat has said.
"Maybe this afternoon, or tomorrow at the latest," said Josep Borrell as he arrived for a NATO meeting.
Sanctions are expected to include a ban on Russian coal.
RorySullivanApril 7, 2022 7:16 a.m.
1649310300
UN Assembly to vote on Russia's suspension from Human Rights Council
The UN General Assembly is due to vote today on a US-led resolution calling for Russia's suspension from the world's human rights body – the UN Human Rights Council – following reports of atrocities committed by Russia against civilians, killing hundreds, as its troops withdrew from the region.
"We believe that members of the Russian forces have committed war crimes in Ukraine, and we believe that Russia must be held accountable," US Ambassador Linda Thomas-Greenfield said.
"Russia's participation in the Human Rights Council is a farce," the US envoy said as he demanded Russia's withdrawal from the 47-member council.
Footage from the Ukrainian town of Bucha showed streets littered with the bodies of what appeared to be civilians, sparking global anger.
Arpan RaiApril 7, 2022 6:45 a.m.
1649308546
Noam Chomsky says Ukraine will be even more devastated: 'It's monstrous'
Renowned linguist and political philosopher Noam Chomsky has warned that Ukraine will suffer further devastation in the ongoing war.
"It's monstrous for Ukraine… Why did he do that? There are two ways to approach this question. One way, the fashionable way in the West, is to probe the recesses of Putin's twisted mind and try to determine what is going on in his deep psyche," Mr. Chomsky said. The new statesman.
"The other way would be to look at the facts: for example, that in September 2021, the United States issued a strong political statement, calling for enhanced military cooperation with Ukraine, in pursuit of sending advanced military weapons, all part of Ukraine's strengthening NATO membership program," the political and social analyst said.
He added: "You can take your pick, we don't know which is the right one. What we do know is that Ukraine will be even more devastated. And we can slide into terminal nuclear war if we don't pursue the opportunities that exist for a negotiated settlement. »
Arpan RaiApril 7, 2022 6:15 a.m.
1649307578
'No time for fake comfort' as Truss meets NATO counterparts over Ukraine
There is 'no time for false comforts' in the face of a slowing Russian offensive in Ukraine, Foreign Minister Liz Truss says, as she should push the coalition to keep pressure on Moscow .
Ms Truss said the new British sanctions announced on Wednesday against Russian banks and oligarchs were among the toughest yet.
Ministers from NATO countries are due to meet in Brussels on Thursday, followed by a press conference with Mr. Stoltenberg.
Geraldine Scott has the full report here:
Arpan RaiApril 7, 2022 05:59
1649305754
A lone Ukrainian tank filmed confronting a Russian armored convoy
A lone Ukrainian tank was captured ambushing several Russian armored vehicles less than 50 miles from kyiv in dramatic drone footage.
Seen maneuvering between buildings and firing at the Russian vehicles, the T-64 tank manages to set one of the Russian vehicles on fire, prompting a quick response from Vladimir Putin's troops.
Holly Bancroft has the full report here:
Arpan RaiApril 7, 2022 05:29
1649305366
US Senate to consider legislation on ending trade relations with Russia
Legislation to end normal trade relations with Russia and ban its oil imports is being discussed in the US Senate on Thursday.
If allowed, the trade suspension measures will allow Joe Biden to impose higher tariffs on Russian imports.
The bill to ban Russian oil would replace the restrictions Mr. Biden has already put in place via executive action.
Russian President Vladimir Putin should be held accountable for war crimes against Ukraine, Senate Majority Leader Chuck Schumer has said.
Arpan RaiApril 7, 2022 05:22
1649301573
Mariupol counts its dead, authorities say more than 5,000 killed
The number of civilian dead in Mariupol in Ukraine could be more than 5,000, the mayor of the city that fell victim to a brutal Russian siege said on Wednesday.
Mayor Vadym Boichenko said of more than 5,000 civilians killed in weeks of Russian attacks, including street fighting, at least 210 were children.
Russian forces shelled hospitals, including one where 50 people were burned to death, Boichenko said.
Arpan RaiApril 7, 2022 4:19 a.m.
1649300601
Russia should be expelled from G20 – US official
Russia is set to be kicked out of the G20 major economies forum and if Russian officials show up at the platform, the US will boycott "a number of G20 meetings", US Treasury Secretary Janet Yelen.
"President Biden has made it clear, and I certainly agree with him, that business cannot be business as usual for Russia at any of the financial institutions," Ms Yellen said.
"He asked for Russia to be removed from the G20, and I made it clear to my colleagues in Indonesia that we would not attend a number of meetings if the Russians were there," the senior US official said.
The G20 coalition has been a key international platform since 2008 to discuss global issues such as international trade, cross-border debt and, more recently, Covid-19. The club includes countries like China, India and Saudi Arabia that have refused to directly or indirectly condemn Russia's invasion of Ukraine.
The US Treasury Secretary has acknowledged that Russia is unlikely to be expelled from the International Monetary Fund given its rules.
Arpan RaiApril 7, 2022 04:03
1649299837
Blinken says Ukraine will win: 'Won't submit to Putin's will'
US Secretary of State Antony Blinken said Ukraine will eventually win against the Russian military invasion but will suffer "tremendous death and destruction".
When asked if Ukraine would win, Mr. Blinken replied: "So ultimately, yes, because what is success, what is victory? It is clinging to the sovereignty and independence of their country. And there's no scenario that it won't happen over time.
However, he added that "it may take time".
"…and in the meantime, [there will be] enormous death and destruction. But what is so powerful here is that the Ukrainians have made it clear that they will not submit to Vladimir Putin's will," the senior US official said.
Ukraine still has a lot of strength, Blinken said, adding that the country's citizens "have something else that is ultimately stronger, and that is a fierce determination and will to defend their country with the support from many countries around the world".
Arpan RaiApril 7, 2022 03:50
1649299755
FBI hijacks Russian cyber network
The Federal Bureau of Investigation has hijacked thousands of routers and firewalls from Russian military hackers, US officials have said.
It was an unusual operation and a preventive measure to prevent Russian hackers from "mobilizing compromised devices into a 'botnet' – a network of hacked computers that can bombard other servers with malicious traffic" .
"Fortunately, we were able to disrupt this botnet before it could be used," US Attorney General Merrick Garland said.
Arpan RaiApril 7, 2022 03:49