Hospitals, schools, hotel and museum damaged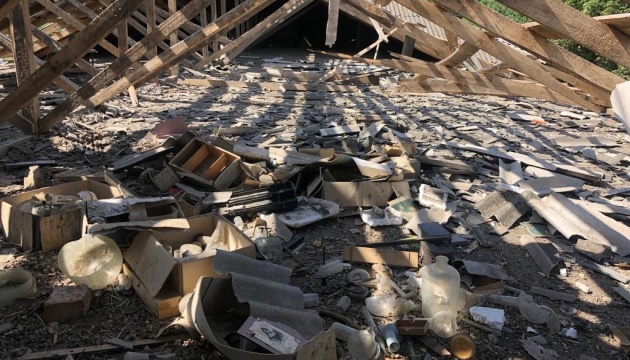 Last night and the morning of September 4, 2022, Russian troops launched several missile strikes on the Mykolaiv region, causing damage to health and educational institutions, hotels and museums in settlements such as Mykolaiv, Voznesensk and Ochakiv.
The relevant statement was made by the head of the Mykolaiv regional military administration Vitalii Kim on Telegram, reports a correspondent of Ukrinform.
"Around 2:30 a.m. on September 4, 2022, a massive missile attack was launched on Mykolaiv, apparently with S-300 systems. Significant damage was caused to three health institutions, two educational institutions, a hotel and a museum. Residential homes were also damaged. According to preliminary data, there were no casualties. Additional details are yet to be verified," the report said.
According to Kim, Voznesensk came under enemy fire around 05:00. A fire broke out in the premises of an industrial company. No casualties were reported. Some residential houses were damaged.
At around 06:02, Russian troops also struck Ochakiv, after hitting civilian infrastructure. Enemy shelling also caused damage to residential houses. No casualties were reported.
On September 3, 2022, at around 11:30 a.m., Russian invaders attacked the Tsentralnyi district of Mykolaiv with the Kh-59 air-launched missile fired from the Su-35 fighter. The missile hit a private house, after destroying a house and residential buildings. One person was injured.
In the afternoon, the urban-type settlement of Pervomaisk came under enemy fire. Russian projectiles hit residential houses. No casualties were reported.
At around 11:25 a.m. on September 3, 2022, the Russian Kh-31 missile fired from the Su-35 fighter struck a detached house in Vysunsk, Bashtanka district. A child was reportedly killed. Four civilians were injured, including three children.
Between 4:00 p.m. and 7:00 p.m. the enemy shelled the outskirts of Novooleksandrivka. No casualties or damage were reported.
Photo: illustrative
mk