DuMol Owners and SingleThread Founders Team Up to Create New Sonoma Restaurant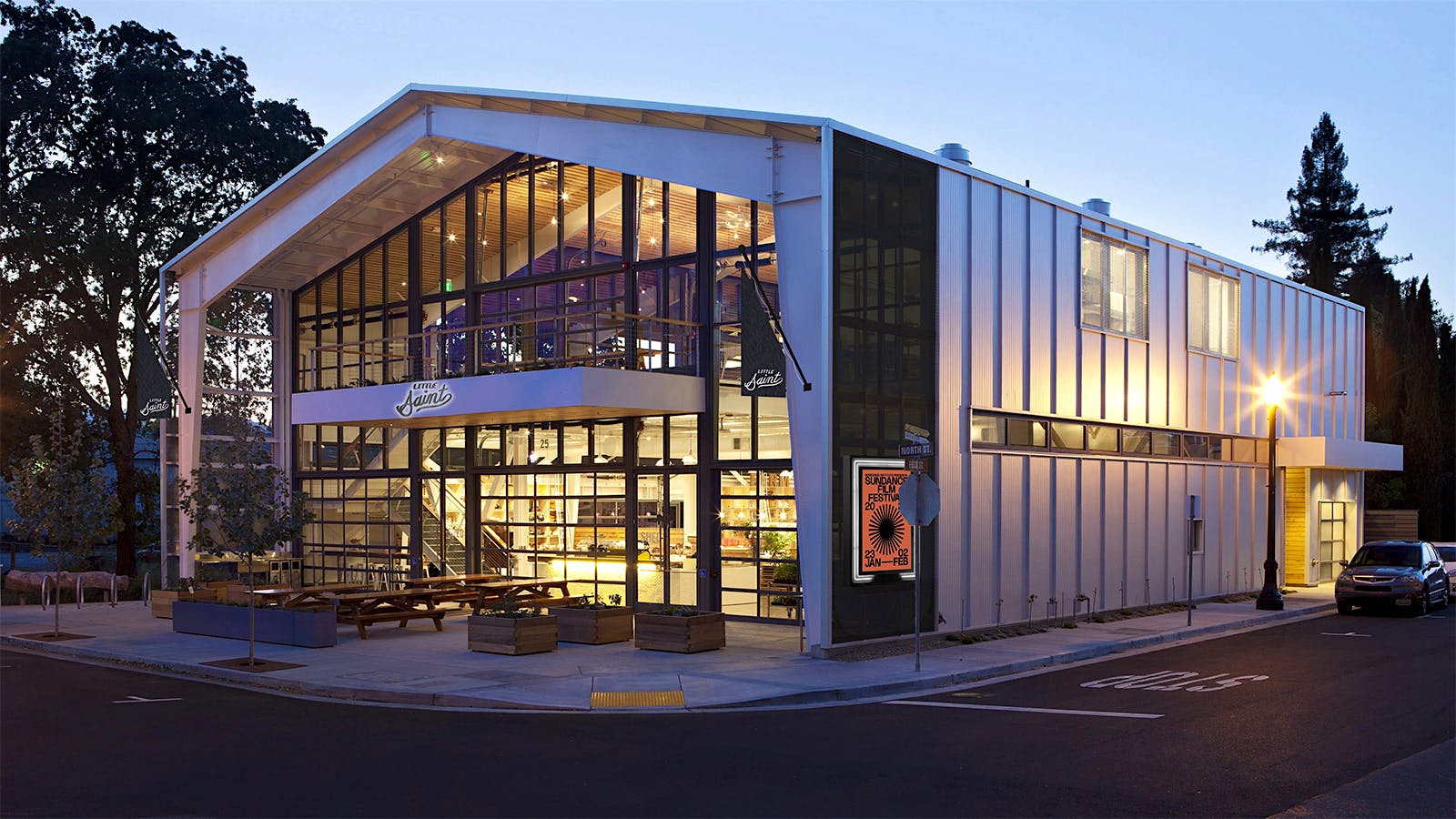 Jeff and Laurie Ubben, philanthropists and owners of DuMol Winery, are opening a new restaurant in Sonoma, Little Saint, on April 22 (Earth Day), in conjunction with well-known members of Healdsburg's foodie community: Chef Kyle Connaughton and Katina Connaughton, co-owners of wine spectator Grand Award winning SingleThread Farms located just down the street.
Little Saint is operated by the Connaughtons' management company, Vertice Hospitality Management, with Jenny Hess as restaurant manager, Akeel Shah as general manager and SingleThread veteran Alex Sarovich as wine director.
For the all-plant-based menu, Chef Bryan Oliver uses ingredients sourced from the Little Saint Farm, as well as SingleThread Farm and other local growers, highlighting how a restaurant can help maintain a healthy ecosystem that provides quality products. The results, many of which are shareable, are dishes like cauliflower biryani with basmati rice, green garlic potato soup, carrot mokum with shredded red cabbage, and carrot cake with nut.
Chef Bryan Oliver showcases the creativity and aesthetic appeal possible in a vegetable-focused menu, with a dish of roasted beets, tangerine, pistachios and mint. (Emma K. Morris)
Sarovich's 300-label list aligns closely with Little Saint's meatless menu and focuses on eco-friendly practices; she verified that each wine was made from grapes grown at least sustainably. Little Saint's environmental philosophy was, in fact, one of the reasons Sarovich wanted to join the restaurant team.
"[The Ubbens] really allowed me to build a program that I believe would encompass everything that we are all passionate about, from agriculture, to showcasing female and minority winemakers, to finding wines that offer a sense of belonging," Sarovich said. wine spectator.
Sonoma ranks high in the inventory of 3,560 bottles, which is unsurprising given Little Saint's location, with additional strengths in other Golden State areas like Mendocino, Central Coast and Napa. Valley. Beyond California, the program honors Champagne, Burgundy and the Loire Valley, as well as Italy. Sarovich's goal is to feature wines and categories loved by local winemakers in the Healdsburg area, and customers can expect bottles from vineyards like LaRue of Sonoma, Niew Vineyards of Oregon and Gamet of Champagne. Natural wines and skin wines are also presented. The Little Saint cocktail program, led by Matthew Seigel, will also emphasize sustainability, as well as local ingredients.
"Little Saint is a community gathering place," Sarovich explained. "It's an elevated wine experience, but in a super laid back, communal way." The wine director hopes guests can move beyond traditional wine-drinking practices with Little Saint's vegetable-based menu, switching easily from red to white during the meal. "What I would like to see is a bottle of white and a bottle of red at each table," she said. "'Let's pass it around, let's have a glass of each with every dish that passes.' Just having fun."
Le Petit Saint's menu, much of which is shareable, encourages experimentation and flexibility with wine pairings. (Emma K. Morris)
Based in a 10,000 square foot space that once housed a restaurant and market called Shed, Little Saint will also premiere with a cafe, a grocery store called Little Provisions and a wine store also overseen by Sarovich. About 80% of the restaurant's list will be available at retail so diners can take home a bottle they particularly enjoyed. Little Saint will also host wine tastings, guest chef tours, book signings and live music. Some events will be organized with the non-profit Saint Joseph Art Foundation to support sustainable viticulture and agriculture.
Little Saint's creative director, Ken Fulk, enlisted local artists and artisans to help create many of the space's design elements, including wooden table tops, handmade tiles, fabrics denim upholstery and the building's exterior murals.
"We live here, farm here and are part of the community of incredible winemakers, farmers and artisans," Kyle Connaughton said in a statement. "We really wanted to reflect that and create exciting offerings for our local community and at the same time share with visitors how special this place we call home is."-CD
Silver Oak celebrates its 50th anniversary with some of America's top chefs
Silver Oak, which debuted in 1972 with a partnership between Ray Duncan and winemaker Justin Meyer, continues to evolve with the times; its Napa and Sonoma wineries have both achieved LEED Platinum certification, a top accolade for environmentally responsible buildings. (Courtesy of Silver Oak)
Fifty years is a milestone. So when the Duncan family of Napa and the famous Silver Oak of Sonoma started thinking about celebrating their big anniversary, they decided to party on the road and celebrate with their fans at some of the most exciting restaurants in the country. , led by culinary stars.
The 12-city tour kicks off April 24 in Los Angeles with chef Nancy Silverton wine spectator Osteria Mozza Excellence Award. "When we started talking about a 50th anniversary dinner series, we knew we wanted to start with Nancy. Not only is she an icon, but she and the team at Osteria Mozza have shown a incredible leadership, perseverance and resilience over the past two years," said Silver Oak CEO and Owner David Duncan.
The menu combines offerings such as duck stew gnocchi and funghi misti veal stracotto with bottlings from Duncan family vineyards including Silver Oak, Twomey, Ovid and Timeless. "Silver Oak Cabernets were truly a California treat to me, then and now," Silverton said, recalling a memorable wine shared with a significant other shortly after the co-founder and winemaker passed away. of Silver Oak, Justin Meyer in 2002. "He brought a 1985 Silver Oak Bonnie's Vineyard, and let's just say it was the right wine to bring. It's so nice to know that the Duncan family has maintained the strong and proud tradition world-class wines," she added.
Osteria Mozza is known for Nancy Silverton's Italian cuisine and rich wine list with selections from Piedmont, Tuscany and other regions of Italy. (Courtesy of Osteria Mozza)
After Mozza, the Silver Oak team will travel to New York, Chicago and Nashville before returning home for two local dinners, including one with chef Christopher Kostow (whose award-winning restaurant in Meadowood was destroyed in the fire de Glass in 2020) at its Charter Oak location in Saint Helena. More than wine will be flowing, as Silver Oak has partnered with the local Russian River Brewing Company for a special beer. "The pomace beer collaboration is one of the most exciting hidden gems of our 50th anniversary tour," Duncan said, explaining that the brewery took 1,000 pounds of pomace and fermented a drink that blurs the lines between wine and beer.
The official celebration on August 6 will include the release of 50th anniversary magnums and the launch of the 2018 Silver Oak Alexander Valley Cabernet Sauvignon. The day's events will combine Silver Oak wines with live music from soul musician Lee Fields and bites from SingleThread Farms, Grand Award winner, Little Saint, Luce, Best of Award of Excellence winner in San Francisco, AlaMar in Oakland and the culinary team at Silver Oak. .
Then it hits the road again with stops at Bell's Award of Excellence at Los Alamos in Santa Barbara County and events in San Francisco, Minneapolis and Austin, ending in New Orleans at Nina Compton's Compère Lapin. "When we first created our list of chefs and restaurants, we wanted to showcase a wide range of chefs who are advancing American food culture and introducing new pairing concepts for California wines," Duncan said.—AR