Donate cryptocurrency on Cryptoexchange Currency.com to invite a friend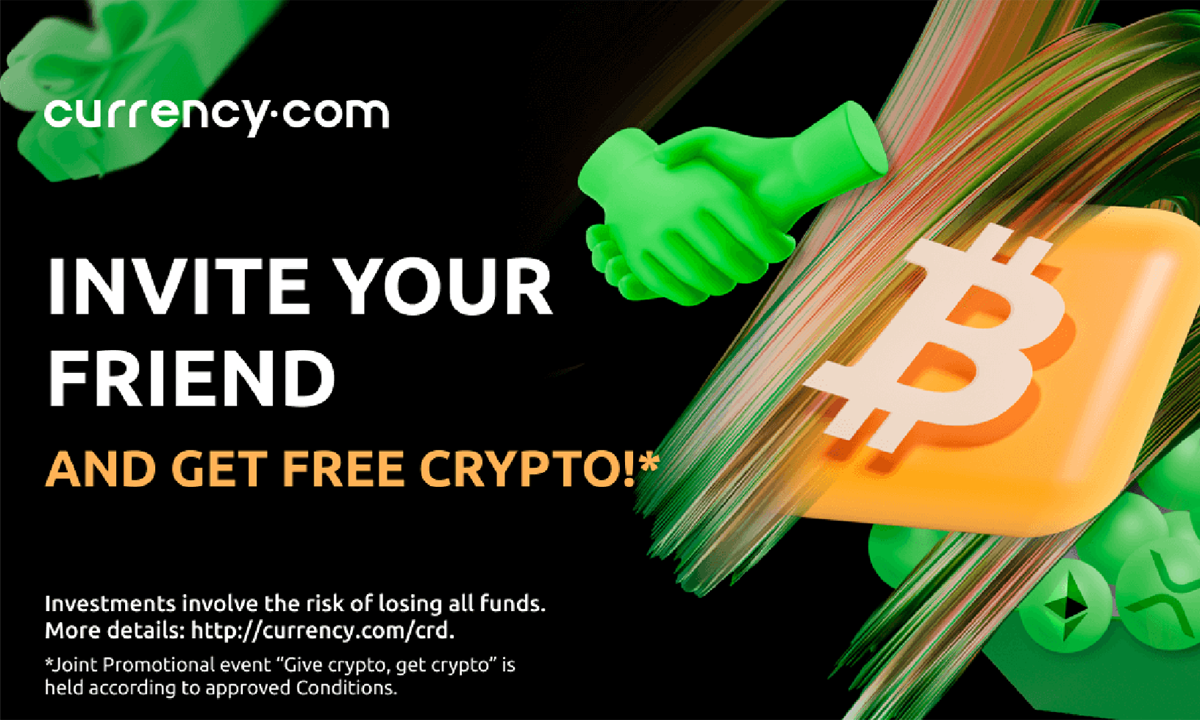 The crypto exchange for tokenized assets, Currency.com, announced a "Invite a friend – both get a bonus" promotional event in which you can receive bonus cryptocurrency. Anyone can participate in the promotional event until March 31, 2022.
To become a participant:
Register on the platform and go through account verification.
Perform at least one leverage trade on the platform.
Invite friends to Currency.com using a referral link.
If the friend you invited successfully completes registration, account verification, replenishes, and performs at least one trade on the crypto platform within 30 days of account registration, both of you will be credited to your account with a cryptocurrency worth 100 tokenized dollars.
Thus, you can invite as many friends as you want to the Currency.com crypto exchange and create a full-fledged crypto wallet consisting of cryptocurrencies. For example, if you have invited 10 friends, each of whom has done at least one trade on Currency.com, your wallet will already contain up to 10 cryptocurrencies. The more friends you invite, the bigger the wallet.
About Currency.com
At Currency.com, clients have access to over 2000 tokenized assets for trading, in "Trades" and "Trade with Leverage" modes up to 500x. You can fund your account with Belarusian and Russian rubles, euros, dollars and cryptocurrencies.
In the first half of 2021, the total number of transactions performed on the crypto platform increased by 968% compared to the second half of 2020, and the number of new customers opening an account increased by 130% over the same period, which makes this crypto exchange one of the most dynamic in Europe.
The activity of the crypto-exchange operator Currency.com is regulated by the Decree of the President of the Republic of Belarus No. 8 "On the development of the digital economy" and other legislative acts of the Republic of Belarus . Currency Com Limited is DLT licensed by the Financial Regulator of Gibraltar. Currency Com US LLC is registered as an MBS with FinCEN (USA) and FINTRAC (Canada).
Warning
All information contained on our website is published in good faith and for general information purposes only. Any action the reader takes on the information found on our website is strictly at their own risk.